We listened to your feedback and not only improved our Snip drawing experience, but also generally improved the experience of using the app on an iPad or Android tablet. Here's what's new…
Improved drawing
We have added 2 new convenient features to use while drawing Snips: a Redo button to go with the Undo button, and the ability to switch between Pen and Eraser functions when just using Undo and Redo is not a good solution.
The Eraser works just like the Pen, drag or tap your fingers on the desired lines and they will erase. Using the Eraser is especially convenient on iPad, because we also added support for using the Apple Pencil double-tap action to switch between Pen and Eraser.
Edit a previously drawn Snip
Another new drawing-related feature that we've added is the ability to edit a previously drawn Snip. You will see an edit button at the top left of the original image on the OCR tab. Click that button to edit the drawing and Snip again.
This feature is convenient if you notice a mistake in your drawing, want to make your drawing more clear, or just want to Snip something slightly different to a previous drawing, and don't want to start from scratch!
Better integration with Photos on iOS
We have also made it a lot easier to upload images into Snip from your Photos or directly from a screenshot on iOS. All apps can still upload images from Crop mode of the app by tapping the upload button at the bottom left corner of your screen, but now you can also upload images directly from your Photos app.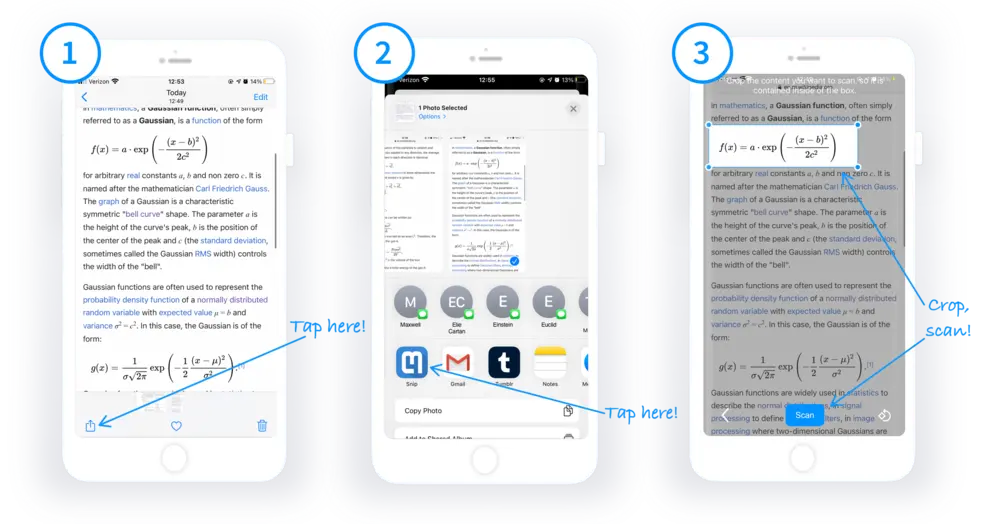 If you don't see the option to share to Snip, click More and you will find it in the list. You can also send screenshots directly to Snip using this same integration.
General improvements when using on mobile & tablet
We have also added some general improvements to the usability of the mobile and tablet apps:
landscape view supported throughout the app
integration with Apple Pencil (including double-tap action to switch between Pen and Eraser)