Convert PDFs using OCR
Digitize PDFs and convert them to editable Notes, or other useful file formats like
LaTeX
,
DOCX
,
Markdown
, and
HTML
. It works on two-column PDFs, PDFs with math, tables, chemistry, figures, and diagrams, and even handwritten PDFs.
Search all your PDFs, even handwritten ones
Use Snip to create a searchable repository of all of your research PDFs. Our OCR was optimized for STEM PDFs, so you can even use math (LaTeX string) as a search term, search within tabular data, and search handwritten PDFs like lecture notes!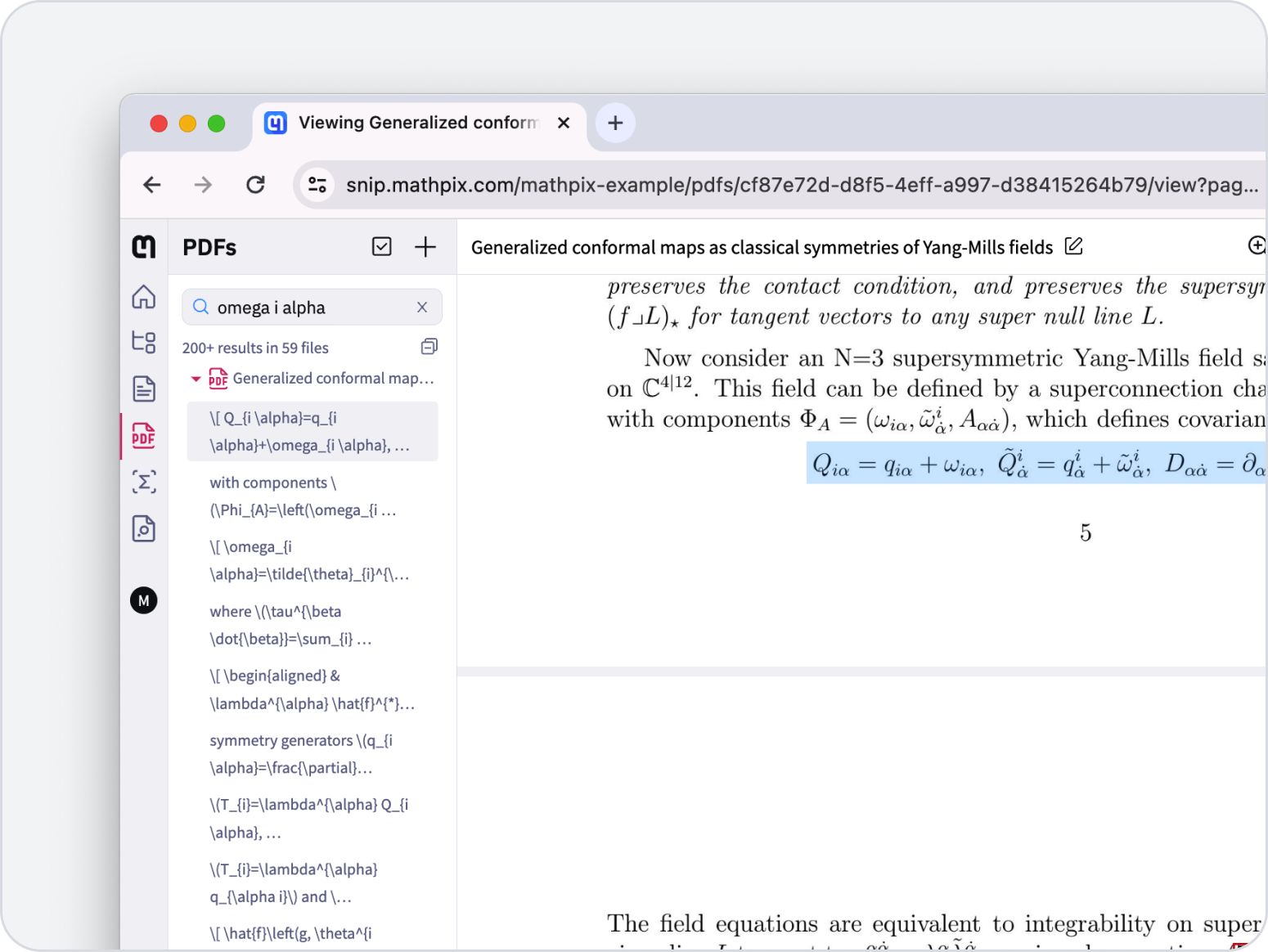 Read PDFs conveniently on any device, with PDF<>HTML scroll syncing
Scientific paper PDFs, especially two-column ones, are notoriously difficult to read on phones, where zooming in and out is required to make the fonts readable. With our new PDF view, you can read any scientific PDF in a reader mode that is optimized for your screen size.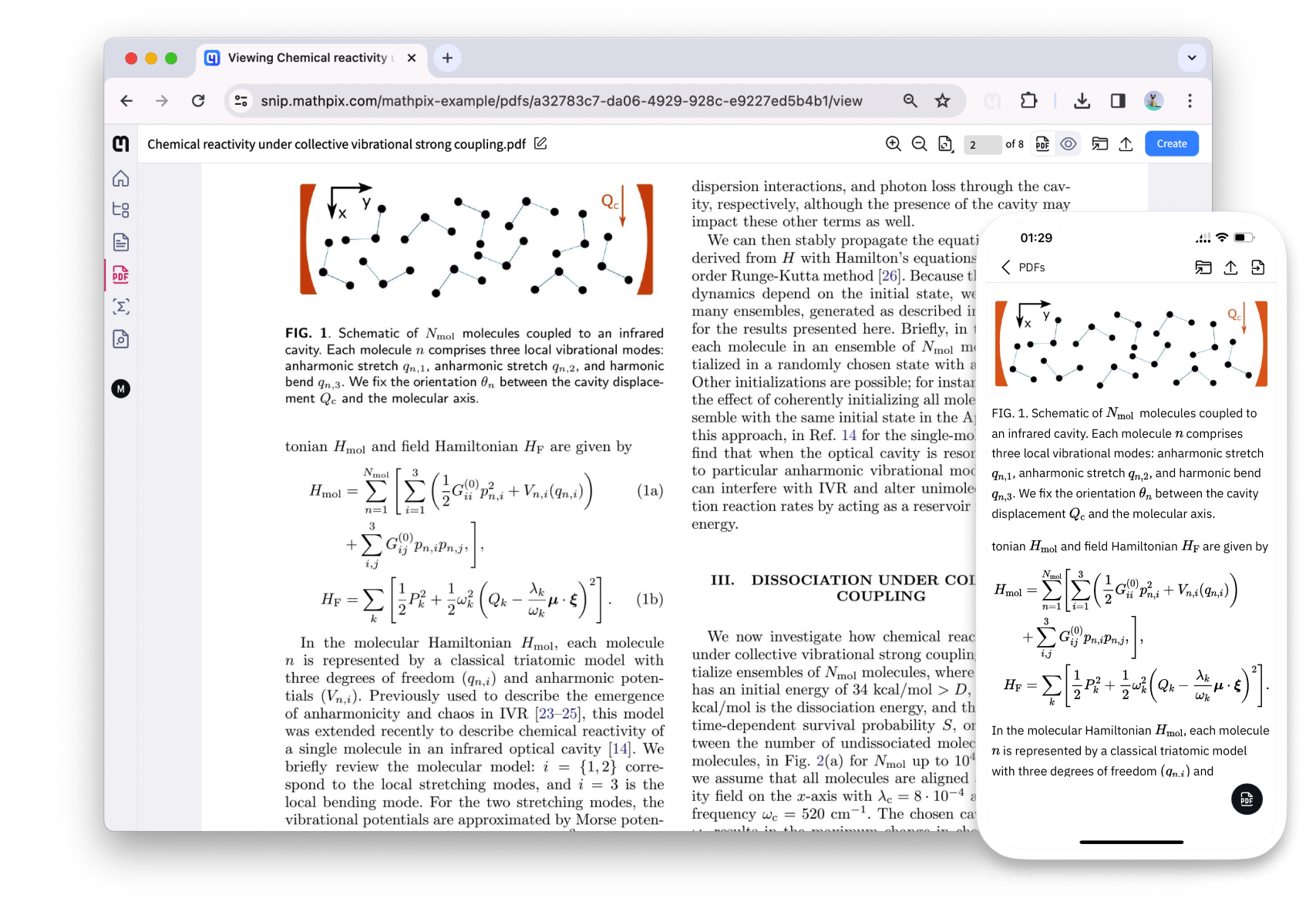 This PDF reader mode syncs your reading position automatically with the original PDF, so you can switch between the original PDF and the rendered HTML easily. This is the most comfortable and advanced PDF reader for researchers ever developed.
All Snip export formats now supported in the web app
You can now copy all export formats to the clipboard from the web app, not just LaTeX. If you navigate to the Snips tab on the left of the screen, you will see a list of all of your Snips. If you click on the individual Snip, you will see an expanded view with all of the copy to clipboard options:
At the top of your Snips list, you can search using a text or LaTeX string for the Snip you are looking for: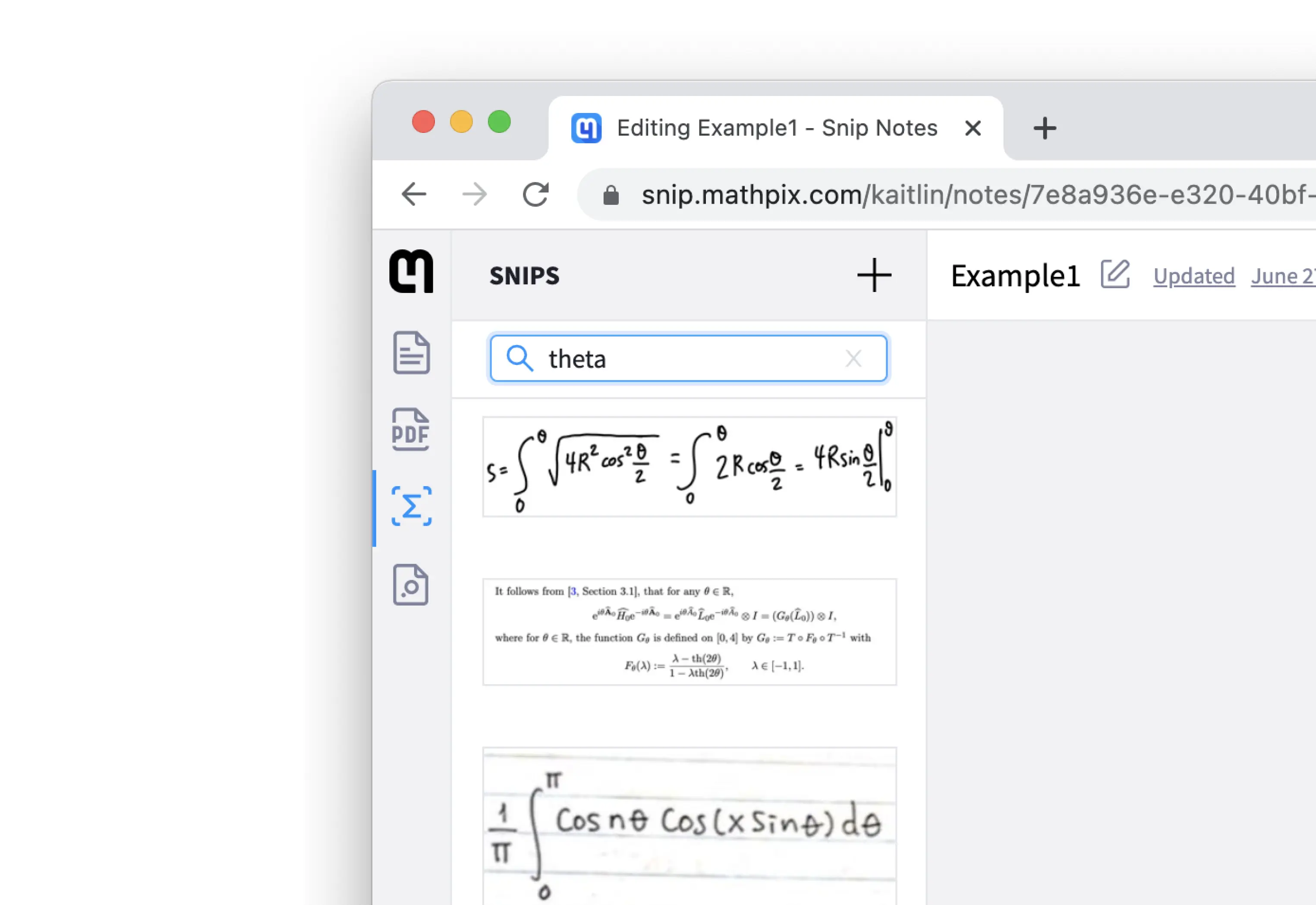 If you want to insert directly into your Note, click this insert button while hovering over your Snip: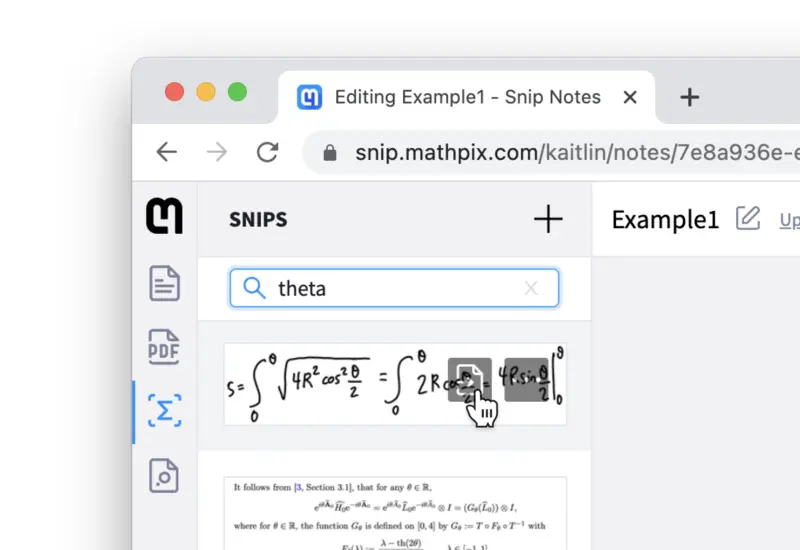 Support for web app in mobile browser
Our Snip web app is now usable on mobile devices: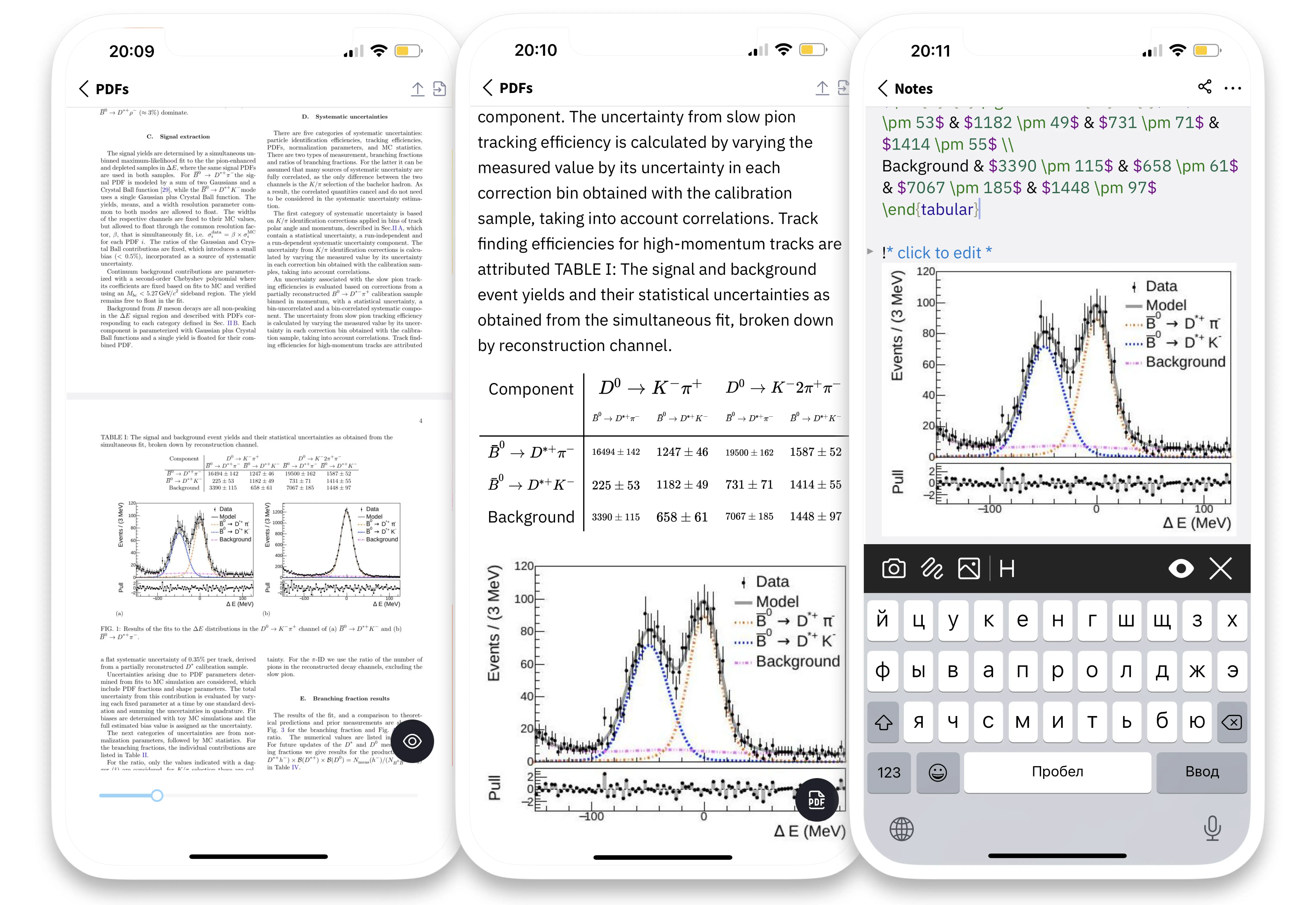 Notes and PDF Reader now support exportable equations
We have recently added an accessibility option to Notes that allows a reader to copy the source code of any equation in the Note, simply by right-clicking the equation. You can copy LaTeX, MathML, and Asciimath.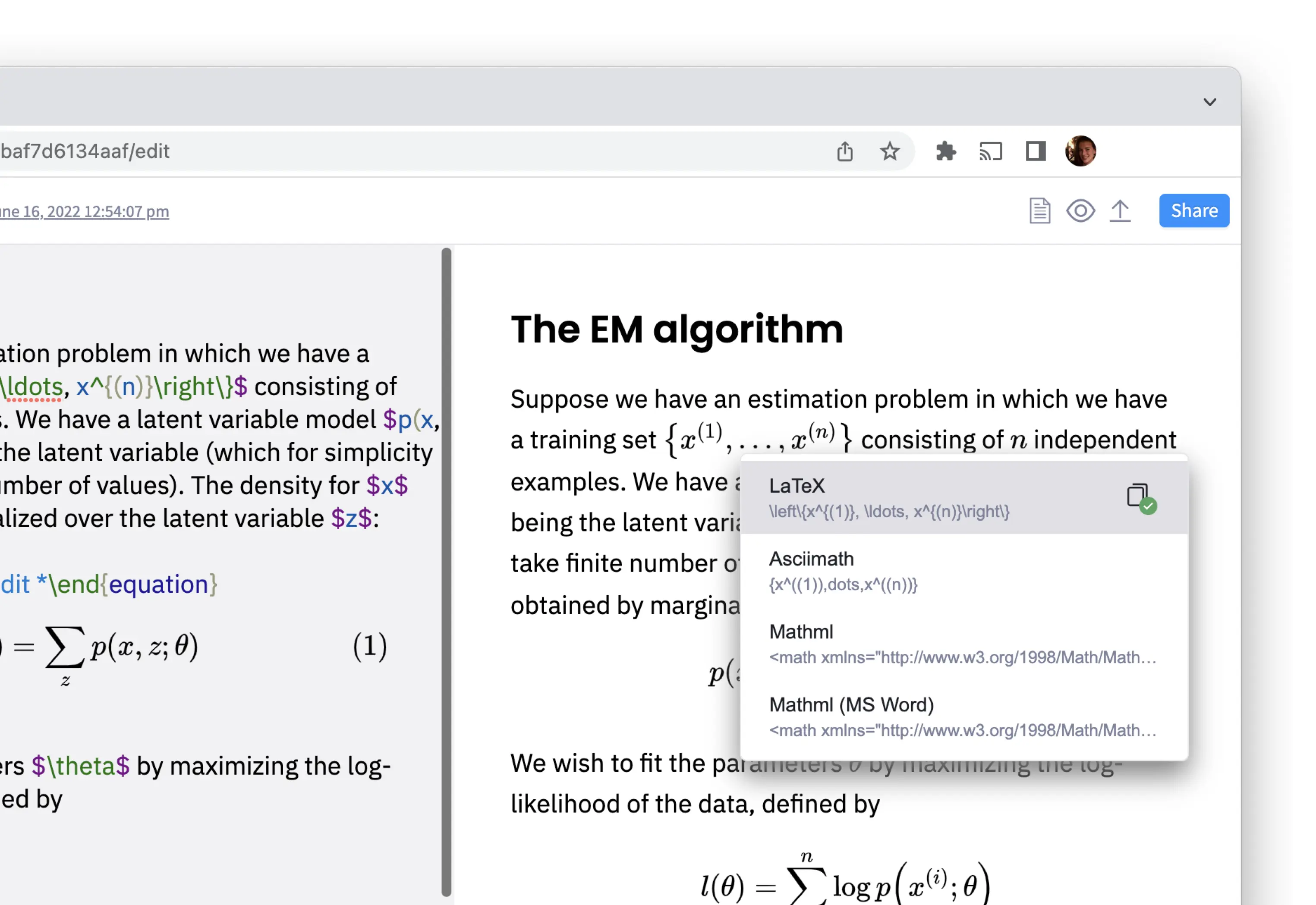 This feature is also available in PDF reader mode so you can copy individual equation code from PDFs that you have added to your collection.
Other updates
PDF OCR bug fixes and support for handwritten PDFs
Latency improvements for image recognition services
Robustness upgrades for document conversion features