Payments & Billing
In this FAQ we will answer the most common questions we get about payments and billing for Mathpix accounts. Can't find the answer to your question here? Email us anytime at
support@mathpix.com
and we would be happy to help you!
Accepted Payment Methods
For our individual monthly Pro subscription, we can accept payments by credit card, debit card, Google Pay, Amazon Pay, Apple Pay or PayPal.
For our individual yearly Pro subscription, we can accept credit card, debit card, PayPal, Google Pay, Amazon Pay, Apple Pay or Alipay.
If you are on the Free plan, you never need to add payment information to your Mathpix account.
Answers to frequently asked questions
How can I upgrade to the Pro plan?
Can I cancel the subscription in the middle of the month/year, so that I don't forget to turn it off later?
Yes. When you cancel your subscription at any point during your monthly or annual cycle, your subscription remains active until the end of your billing period.
How do I change/update the credit card on my account?
You can update your credit card in your account settings. Go to
Snip Subscription
and click the "Update Payment Method" button.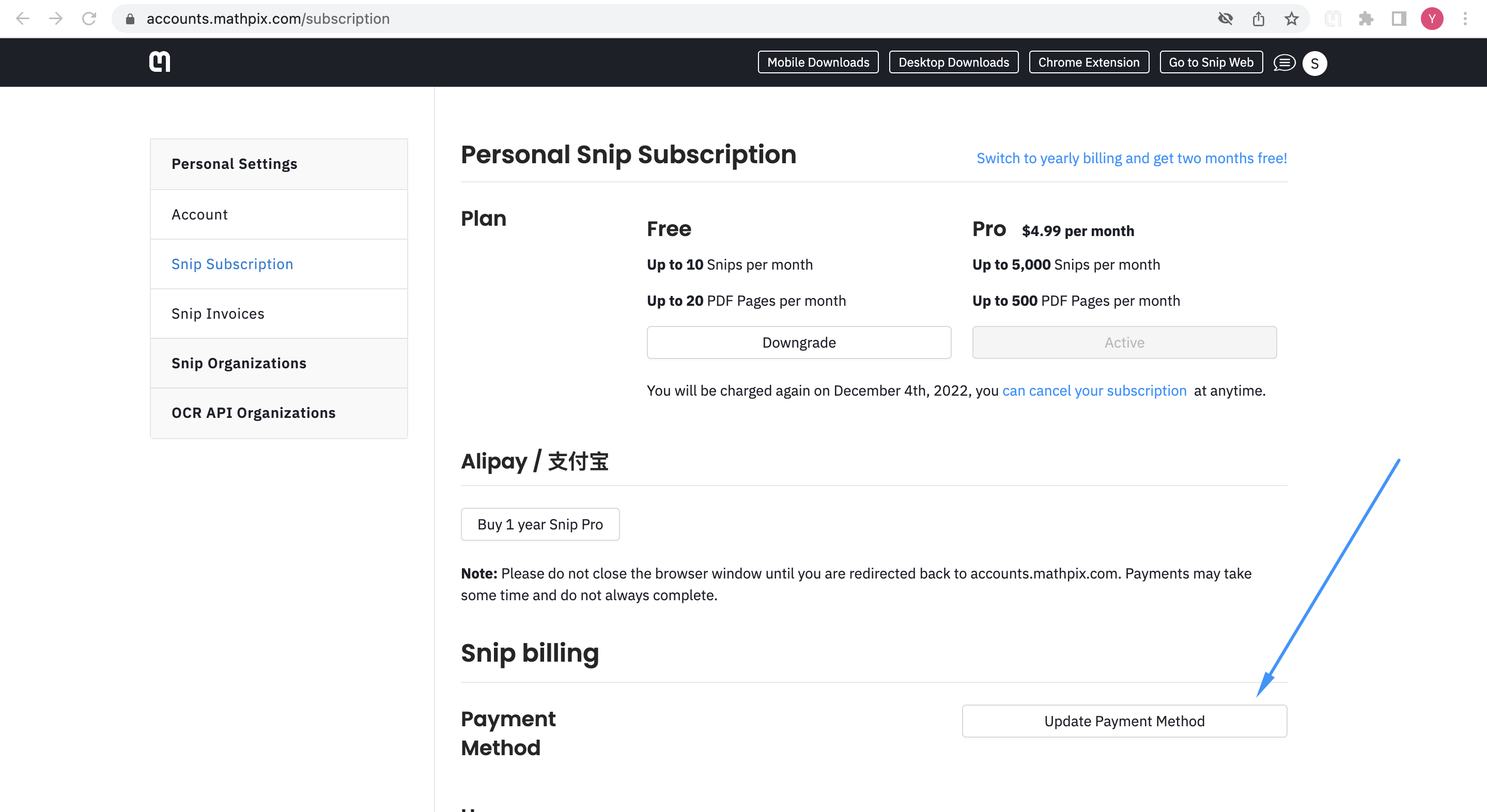 I've bought the 1 year Pro plan with my Alipay account, but my subscription has not been upgraded. What do I do?
Sometimes, Alipay payments will show up as deducted from your account, but the process of sending the funds from Alipay to Mathpix can fail, which means that the funds never reach Mathpix. Don't worry! If this happens, Alipay will refund the payment within a few hours.
Once the amount has been refunded, you can try again. This time, make sure that you stay on the Alipay page until you are redirected back to
accounts.mathpix.com
. That way, you will be sure the payment went through!